Our Services
Formulation: Formulation of topical new drug, OTC pharmaceutical and cosmetic products.
Skin Pharmacodynamic Studies: In Vitro and In Vivo skin disposition studies including evaporation, deposition, percutaneous penetration, and metabolism analysis. Development of model systems for membrane transport and release studies. In Vivo studies performed in collaboration with Northview Biosciences, Inc.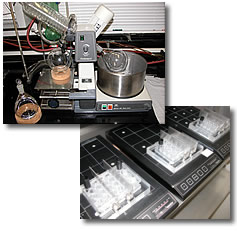 Analytical Support: Radiometric analysis of C-14, H-3 and S-35 isotopes by liquid scintillation counting; HPLC/flow detection or electronic imaging; HPLC and GC chemical analysis.
Specification Development: Quality control release specification development of raw materials and formulated products.